A Day In the Life: Junior Reserve Officers Training Corps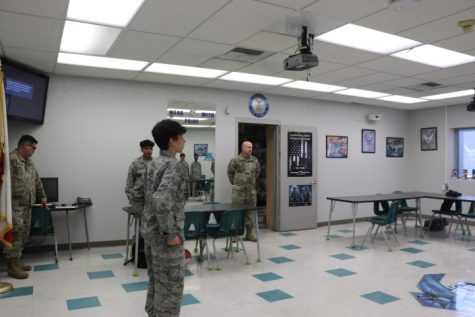 "To be a leader, you have to be a follower first", says JROTC's Unit Commander and Cadet Major, Senior Anthony Murillo Zuniga.
It's easy to recognize students participating in the Junior Reserve Officer Training Corps around campus, commonly wearing a camouflage or navy blue uniform. Yet, the easily recognizable program remains a mystery to many people around campus.
When speaking with students on their knowledge of the ROTC program, there was a plethora of knowledge. Senior Kaitlyn Griffin says, "I don't know much about them, but I definitely can point them out".
When asking Anthony Murillo Zuniga about how he ended up in JROTC he expressed that originally he, "was more interested in being a police officer". Zuniga decided to be in JROTC because "it was the closest thing" to what he had planned on pursuing. Zuniga intends to join the Airforce, in Security forces or Policing. 
Each day of class, JROTC students perform both the Pledge of Allegiance and the Cadet Oath. The Cadet Oath consists of a promise of morals. When speaking with Zuniga, he commonly proclaimed the importance of character in this program, and how his character has shifted for the better because of his participation. 
As for written work, Zuniga says that the Sergeant and the Kernel take turns teaching, noting lessons including, "different types of aircraft carriers". According to the U.S. Army, "JROTC Curriculum
Overview", the ideas being taught are, "capacity for life-long learning, communication, responsibility for actions and choices, good citizenship, respectful treatment of others, and critical thinking techniques." 
Sultans can see these uniforms once a week around campus. JROTC students are required to wear their uniforms every wednesday. Zuniga clarified that the "camouflage uniform is for working", while the Navy Blue uniforms, better known as 'blues' are, "worn for formal occasions." By wearing these uniforms correctly, "we are representing past soldiers", says Zuniga. 
Zuniga says that Sergeant Reyes tests him on his capacity for growth. Zuniga credits most of his personal success to his position in the program, and hopes to continue his growth in "physical endurance" in the coming months. 
Behind the Navy Blue , and camouflage uniforms is the story of a cadet. A cadet who wears their uniform to represent their nation, and aims to grow as a leader and citizen.