A Free Krispy Kreme Doughnut?!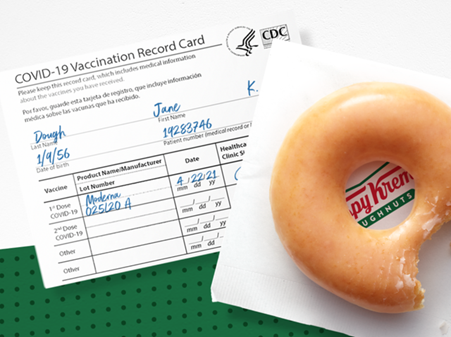 Throughout this lockdown, most of us went through a stage where things started to get a little bitter, but Krispy Kreme Doughnut has taken a step to add a sweet taste to people's lives. 
March 23, 2021 was the day when this doughnut shop started giving out free doughnuts to everyone who has been vaccinated against the COVID-19 virus. You may be wondering, "what qualifies as vaccinated?"
Anyone who has received at least the first dose of the Pfizer or Moderna vaccine, or the one shot of Johnson & Johnson, qualifies for this offer.
For those who have decided to not receive this particular vaccine, you can still enjoy a free donut. 
Krispy Kreme Doughnut, states "[they] understand that choosing to receive the COVID-19 vaccine is a highly personal decision. If you have made the personal decision to not receive the COVID vaccine, please visit [them] on Mondays, 3/29/21 –5/24/21, to receive a free Original Glazed® doughnut and a medium brewed coffee to get your week off to a good start."
This promo only offers one free original glazed doughnut per day. Guests are not able to redeem on behalf of family and friends.
To obtain a free Krispy Kreme doughnut for being vaccinated, it is required that the customer brings their own COVID-19 vaccination record card; the sticker that is often given when vaccinated does not qualify them for this offer. The free doughnut is offered at all locations in the US.
So after getting your vaccination, head to Krispy Kreme to treat yourself.