Dr. Seuss Discontinued
Warning: This article contains an image from one of the books that is racially insensitive in order to provide context for the article.  
American author Theodor Seuss Geisel was known for writing and illustrating more than 60 books under the name Dr. Seuss. Many people admire Dr. Seuss's work because the messages in his books are believed to teach valuable lessons. 
However, on March 2nd, it was revealed that six Dr. Seuss books will no longer be published due to racist and insensitive imagery.  When Dr. Seuss Enterprises announced their decision, they stated that "these books portray people in ways that are hurtful and wrong."
It is important to note that this is a company decision made by the publishers who own the rights to Dr. Seuss's books. Also, these six books are not the most well known and loved (or purchased).  The books have mainly received criticism for the depictions of Black and Asian people. 
The books that will no longer be published are: And to Think That I Saw It on Mulberry Street, If I Ran the Zoo, McElligot's Pool, On Beyond Zebra!, Scrambled Eggs Super!, and The Cat's Quizzer. 
Sultana sophomore Kaitlyn Griffin stated, "when I was little, I didn't know any better and found it okay, but now that I've read some, they aren't the best thought out."  Unlike Kaitlyn, not everyone has read or seen the books in question.  
In And to Think I Saw It on Mulberry Street, an Asian person is portrayed wearing a conical hat, holding chopsticks, and eating from a bowl.
If I Ran the Zoo includes a drawing of two bare-footed African men wearing what appears to be grass skirts with their hair tied above their heads; they are drawn as ape-like. This type of imagery is why specific Dr. Seuss books have received harsh criticism as well as talks of banning them.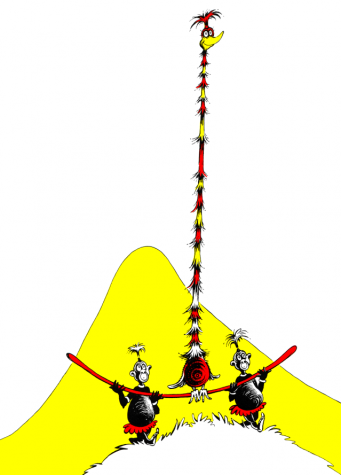 Sultana sophomore Aiden Crowley disagrees with the decision to stop publishing these six books stating, "I think it is very childish as it is a kid's book where at that point in their lives they have no clue what racism is."  Many others have been vocal in supporting Dr. Seuss in response to this news.
Furthermore, one of Dr. Seuss's more popular books, The Cat in the Hat, has also received criticism for similar reasons but is still being published as of right now.  Some are worried that this book could be next.  
The company committed to caretaking Dr. Seuss's legacy, Dr. Seuss Enterprises, says they will listen and continue to review their entire portfolio. It is also important to clarify that although the word "ban" is consistently being thrown out regarding Dr. Seuss's books, these books haven't actually been banned by the company, they will simply no longer be published.