Advanced Placement Tests Are Free At Sultana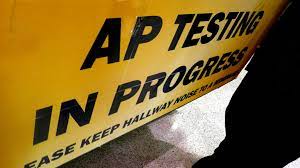 This school year, the Advanced Placement (AP) Tests are free, again! All AP students should be aware of everything that is happening in their AP tests, classes, and benefits of taking AP classes.
In the past, AP tests were not free, but that is currently not the case. The tests are optional, but it's highly recommended for students to take the AP test because they are free, and if the student passes, can earn you college credit.
Firstly, The AP tests are free. Mark Nakata, one of Sultana High School counselors, said Larry Bird, principal of SHS, wants everyone in an AP class to take the AP test since it is free. If you are planning not to take the AP test for that AP class, then you probably should consider not taking that AP class or reconsidered taking the test because you will be already investing so much time to get prepared for a test, so taking it should be no problem. 
The AP tests may continue to be free, according to Nataka. "That's the goal, but it depends on the school's funding," Nakata said.
AP classes are a great way to get ready for college. The classes are a college level class. "I think AP classes are one of those things where the material that will be covered in the classes is going to runned similar to a college class," Nakata said. From the college perspective, the AP students are held to the college student standard, which will help students to realize the expectations for colleges and will help them to prefer college.
Taking AP classes gives your GPA a nice boost. If you get an A in your AP class(es) it counts for a 5 instead of a 4, a B would be a 4 and a C would be a 3. Each letter grade (expect F's and D's) will get an extra point boost, which will help with increasing your overall GPA. Getting into colleges and universities is competitive and AP classes and test scores help each student with gaining entry.
Also, when the students take the AP test and pass with a score 3 or higher, those students get college credit for that AP test they passed (Sometimes, it depends on the college they might want a 4 or even a 5 on the AP test). By taking AP classes and passing the test saves you time and money in college. Having AP classes in your transcript makes you stand out when you apply for colleges. 
To sign up for the AP tests, it's on collegeboard.org. AP students need the code from your teacher. Nataka says that the deadline to sign up for AP classes, "It's going to be November 11, after that there's a $40 late fee," Nakata said. 
The AP test will be happening in May, in the last few weeks of the school year. If you think your AP classes are too difficult as of now, just know you have plenty of time to prepare to be successful in your AP classes!